VI Blog
Best Courses to Learn Investing in Singapore
30 Jun 2021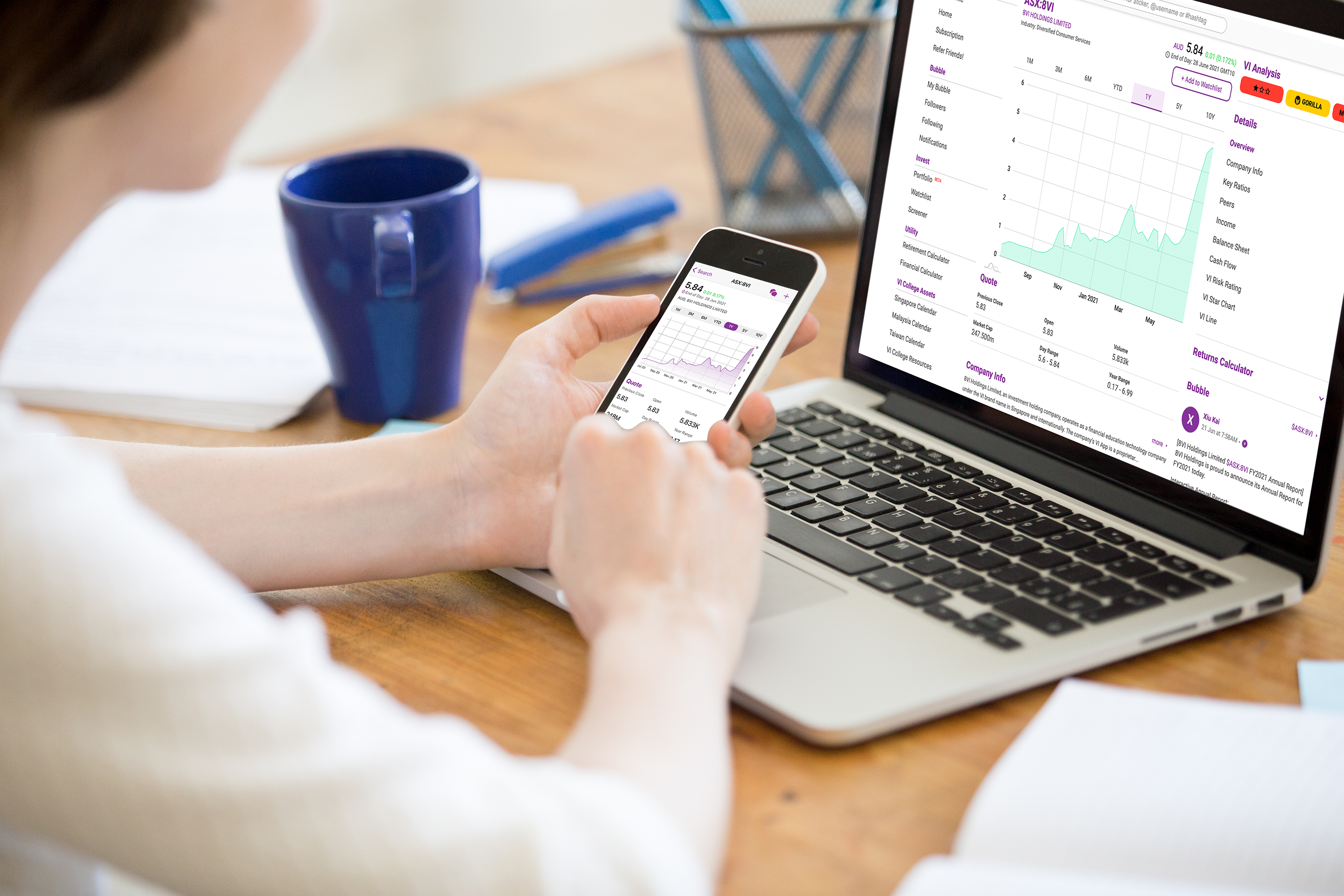 More and more people are realising the value of having a stream of passive income and maximising the chance to learn stock investing while we all stay at home during this pandemic.
While this is generally a good thing as our local population is more eager to strengthen financial knowledge, it can also be a bad thing as we see several new investment courses in Singapore popping up and claiming they're the best.
To beginner investors, this can be quite tricky as you wouldn't know which training programmes to trust, and you might end up losing rather than growing your money.

We, at VI College, work towards the vision of making investing easy for everyone. But we know that financial education must not be taken lightly as this is a journey that impacts both our present and especially our future.

Our Flagship Investment Courses in Singapore
We lay our courses bare for if ever you're keen to learn investing the right way. If you want to invest in yourself, in particular in your knowledge about stock investments, consider signing yourself up for the following programmes. Do note that we currently do our courses online to keep everyone safe.
VI Bootcamp International
Conceptualised with helping everyone build wealth and learn stock trading the easy and smart way, VI Bootcamp is offered in different languages, i.e. English, Mandarin, and Malay. The Bootcamp is a five-day programme that usually starts on Wednesday and ends on Sunday (weeknights from 7:30 p.m. to 9:30 p.m. and weekends from 10:00 a.m. to 1:00 p.m.).
This investment course covers relevant concepts for beginners including stock market 101, money management, protecting your capital, evaluating companies, reading and analysing financial statements, setting up a stock watchlist, identifying moats, doing risk analysis and valuation, and how and when to sell shares.
A bonus is a free three-month subscription to the VI App, a tool that you can use to invest smarter, faster, and easier. The tool allows you to do stock analysis in just a few minutes, so your stock investing does not take too much of your family time.
As of date of writing, there are already 409 batches that graduated from the VI Bootcamp. Here's a programme review from our Batch 400 Graduate.
VIB Full Edition
A more advanced class for interested stock investors, VIB Full Edition offers more comprehensive investing knowledge for two days and a half. This is a weekend class which starts at 9:00 a.m. and ends at 7:00 p.m.
We'd also like to warn you that this is not your typical boring numbers class as it's mixed with fun games and engaging classes. Graduates of the VIB Full Edition not only become smarter value investors but also become rational ones, thereby, reducing investment risks.
The programme extends to Monday night, from 7:30 p.m. to 10:00 p.m. as participants will be shown how to buy and sell in the US exchanges live. The best thing about the Full Edition is the perk of being able to attend the class unlimited times. Hence, whenever graduates want to refresh their knowledge on value investing or want to learn new case studies, they can just attend the programme.
See also: 7 Best Investing Books for Beginners
VI Summit
For a decade now, VI College has been spearheading the largest gathering of value investors in Asia. Dubbed the "VI Summit," this programme not only gathers local participants but also enlists the best investing minds around the world as well as top entrepreneurs, best fund managers, best-selling financial authors, and heads of Fortune 500 companies.
More commonly described as the "supercharge" of value investing, VI Summit is where all types of investors can learn something, get inspired, and grab useful tips to either kickstart or touch up their investment journey.
The above are just VI College's flagship programmes. If you want to explore other courses on investing, just go to our global events page.
If you don't want to commit just yet and just see what value VI College has to offer, you may attend our FREE bootcamp which we do monthly. Here's the signup link to claim your free seat for this online programme: https://8vi.link/freewebinar-sg

P.S. You can also learn about web 3.0, cryptocurrencies, and the metaverse. Here's the link to the free metaverse class.
DISCLAIMER

This article and its contents are provided for information purposes only and do not constitute a recommendation to purchase or sell securities of any of the companies or investments herein described. It is not intended to amount to financial advice on which you should rely.

No representations, warranties, or guarantees, whether expressed or implied, made to the contents in the article is accurate, complete, or up-to-date. Past performance is not indicative nor a guarantee of future returns.

We, 8VI Global Pte Ltd, disclaim any responsibility for any liability, loss, or risk or otherwise, which is incurred as a consequence, directly or indirectly, from the use and application of any of the contents of the article.