VI Blog
Opening Your CPF Investment Account
15 Nov 2021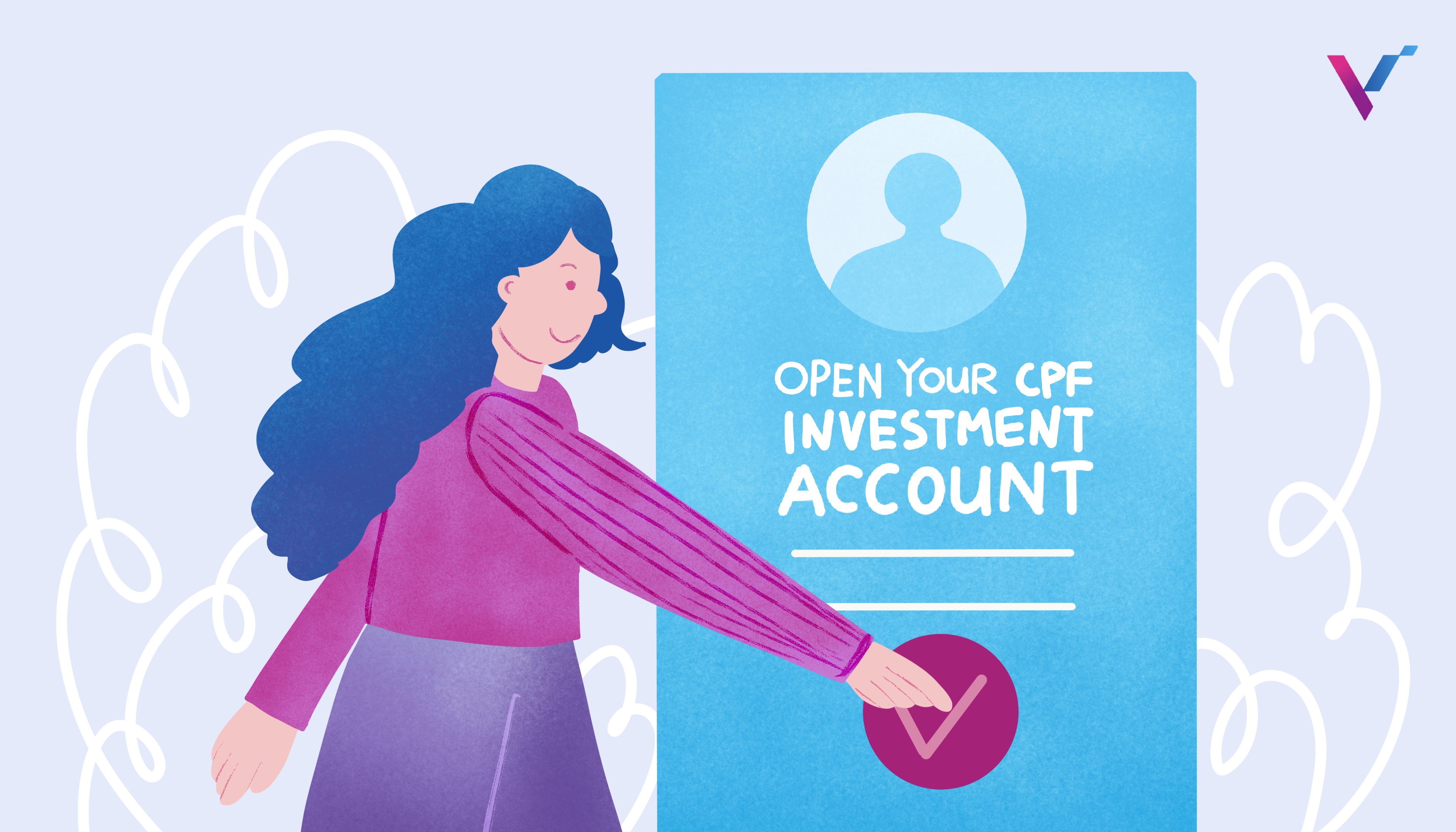 The CPF Investment Scheme (Central Provident Fund Investment Scheme) provides us with an opportunity to invest our CPF money and grow our nest egg even bigger, especially when done correctly.
See also: FAQs on Using Your CPF to Invest in Shares
To start, you need to have a CPF investment account with any of the three approved banks by the Central Provident Fund Board. Hence, you can open your CPF investment account with UOB, DBS, or OCBC.
The CPF Investment Scheme
The social security system in Singapore is highly defined by the Central Provident Fund (CPF). Singapore Citizens and Permanent Residents are given a chance to build a good nest egg.
With an interest rate ranging from 2.5 to 4 per cent, CPF is not at all bad to secure you a safe retirement (considering the current interest rates offered by banks for savings account only range from 0.4 to 1.4% per annum).
Still, there's no harm in exploring more options to build an even stronger nest egg. And we assume you already know this since you're here reading this article.
Yes, you are allowed to invest your CPF. There are restrictions as well as differences between investing with your CPFIS-OA (Ordinary Account) and CPFIS-SA (Special Account), but the underlying principle is investing your CPF money while you're waiting for retirement is possible.
Yet again, we wish to remind you to never touch your CPF to invest if you don't have the proper knowledge to do so. Otherwise, you'll risk losing your retirement fund. It sounds discouraging, we know, but it is a necessary reminder to you that investing has risks. And the less you understand about it, the higher the risk is.
So before you proceed, do some introspection and evaluate whether you're already confident to invest with the CPFIS. If yes, then by all means, proceed reading. If not, better consider learning how to invest today.
See also: Finance and Investment Courses
Where to invest your CPF
Investing using your CPFIS-OA and CPFIS-SA are not the same. To be fair, the CPF Board has the members' safety in mind when it planned this scheme. Why do we say so?
The list of investment options that you can invest your CPF savings in is controlled. For instance, you cannot invest all your CPF money into what are considered high-risk investment vehicles.
Hence, you can only invest up to 35% of your investible savings from your OA account in corporate bonds, shares or stocks, and property funds. You cannot, however, use your SA account to invest in the aforementioned options. Plus, if you invest in shares, for example, you can only choose from a selected list of stocks approved by the board (although it also doesn't mean that investing in the shares within the list is risk-free).
Moreover, even though you're allowed to invest your OA and SA into ETFs and unit trusts, you cannot touch the higher-risk ETFs and unit trusts with your SA.
Relatively speaking, these restrictions are your defensive net that the board thinks will secure your money despite the market volatility and risks presented by investment options available today.
Then again, it comes down to how knowledgeable, confident, and equipped you are to invest and make money with your CPF. Ideally, you want to have returns that are higher than 2.5 or 4 per cent, as these are the same interest rates you'll get from your CPF money even if it remains idle for years.
Opening a CPF Investment Account with DBS, UOB, or OCBC
If you've already decided and are confident to invest your CPF, you need to do two things.
First is to open a CPF investment account with any of the three approved banks in Singapore. These are either DBS, UOB, or OCBC. Hence, if you're an existing account holder in DBS, it makes sense to open your CPF investment account with this same bank as well.
Opening a CPF investment account with UOB, DBS, or OCBC is easy. You can do it through a face-to-face transaction by visiting the nearest branch to you or through an online transaction. You'll need your CPF statement to proceed, and the application process typically takes 7 to 10 business days.
Do note, however, that the above first step is needed only if you're investing with your OA. So should you wish to invest in shares, bonds, or ETFs, having a CPF investment account is a requirement.
On the other hand, investing using your SA doesn't require you to do the above. You can just proceed to the second step which is to open an investment brokerage account.
Your investment brokerage account will be the tool where you can actually invest the money. The CPF investment account with your bank will only manage the funds. To check which brokerages are eligible for CPFIS, download this list.
Should you need help understanding more about investing, particularly in stocks, feel free to come to our free investing bootcamp.



DISCLAIMER

This article and its contents are provided for information purposes only and do not constitute a recommendation to purchase or sell securities of any of the companies or investments herein described. It is not intended to amount to financial advice on which you should rely.

No representations, warranties, or guarantees, whether expressed or implied, made to the contents in the article is accurate, complete, or up-to-date. Past performance is not indicative nor a guarantee of future returns.

We, 8VI Global Pte Ltd, disclaim any responsibility for any liability, loss, or risk or otherwise, which is incurred as a consequence, directly or indirectly, from the use and application of any of the contents of the article.