VI Blog
Invest for Good: A Donation Drive for Charities in Singapore
24 Nov 2021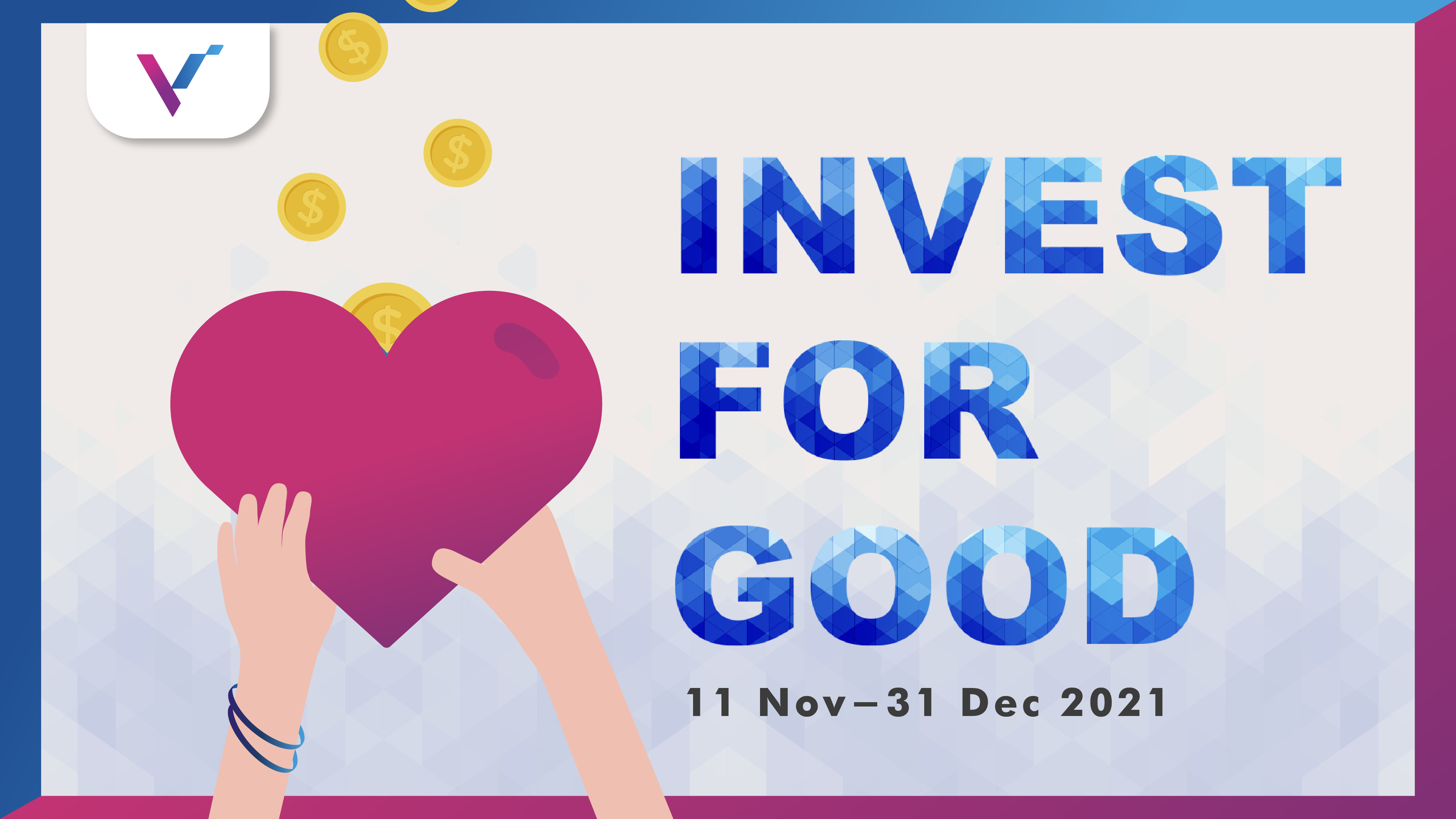 The season of giving doesn't end despite the uncertain times we live in today. If anything, it ignites the willingness to extend a helping hand to people in need even more.
Yes, we all suffered – individuals, families, and organisations -- but now and then, we see patches of colours peeking from the dark clouds.
See also: Pandemic Investors: True Stories on COVID-19 and Investing
Here we are, waiting for the time that the full rainbow will show itself. As we wait, we can also become rainbows for others through a donation drive for charities in Singapore.
We call this initiative "Invest for Good," with two keywords from which the whole campaign revolves around: "invest" and "good."
Allow us to elaborate.
Part 1: Invest
We want to teach more people how to invest properly. We believe that by empowering more individuals, especially men in the street, to achieve sustainable wealth through investing, we can transform lives and help investors become more confident in making investment decisions.
This is exactly what we do at VI. We help you invest smarter, faster, and easier. As this is what we're good at, we want to put our best foot forward and reach more people.
This means that the first idea of Invest for Good is to reach your family, relatives, and friends, and teach them how to invest.
But is there a fee, you ask? Well, yes and no. Yes, there's a fee, but no, it's not the regular fee (S$499) we get from those who attend our courses.
Your family, friends, relatives, or yourself can learn to invest by paying only S$1 to attend the 5-day VI Bootcamp International (see below for more details about the course). Yes, that's right, only one dollar!
Why only S$1? Here is where the second part of this campaign comes into the picture.
Part 2: Do Good
Once your family, friend, relative, or yourself commits a dollar, VI will donate S$49, thus, making a total of S$50 donation per person.
So if 10 of your friends join us in this cause, we'll all be able to donate a total of S$500, with each of your friends only paying S$1 and VI donating the rest.
Invest for Good aims to raise S$250,000 this November and December 2021. We can get to this amount with 5,000 people committing to donate $1 and learn to invest at the same time. The total amount will be donated to a charity of our choice in Singapore.
Our Recipient Charities
We kicked off this donation drive on 11th November. After just a month, we managed to hit our very first milestone.
On the 6th of December, we donated a total of S$14,194.70 to a charity organisation that helps students from low-income families meet their schooling needs, e.g., snacks during recess, transportation to and from the school.
We did this through the support of a generous community who understood not only investing in their financial future but also investing in the future generation.
This December, we are partnering with the Caregivers Alliance Limited (CAL), a non-profit organisation here in Singapore that advocates for caregivers of people with mental health issues. For every person who commits S$1, VI will donate S$49 to CAL.
We believe it's time to change the tone of mental health conversations in Singapore. It's one thing to care for those who suffer from mental health issues, but we often overlook the people who care for them.
We fail to check on them as they fight against the stigma associated with mental illnesses. The "invisible heroes," these caregivers also need to be cared for by providing them with the right education, support, network, and other services. Whatever amount we pool at the end of the month will be given to CAL to advocate for these invisible heroes.
If you're interested to join this cause, know that no amount is small when it comes to helping. With just S$1, you will be able to tell these invisible heroes that their struggles and sacrifices don't go unseen.
How to join Invest for Good
You can join us in Invest for Good in a couple of ways.
One, if you're already one of our Millionaire Investor Programme (MIP) or VI Bootcamp Full Edition (VIB FE) graduates, you can become our affiliate by creating a unique link that you can share with your friends and family. Click here if you're already a graduate.
Two, if you're not yet part of the VI Community, you can join Invest for Good by donating your $1 (hence, getting the chance to attend the VI Bootcamp International and use the VI App for 14 days). Just click on this link to join: VI Challenge 2022
There are, however, some criteria. First, you must be more than 21 years of age. Second, you must attend at least three days of the VI Bootcamp International. Lastly, you must show up on the fifth day of the Bootcamp as it's when we'll tally the donation with the attendance.

What about the VI Bootcamp International?
Once you commit your S$1, you'll get an invitation to join the VI Bootcamp International, a 5-day online introductory course on stock investing. The programme content is as follows: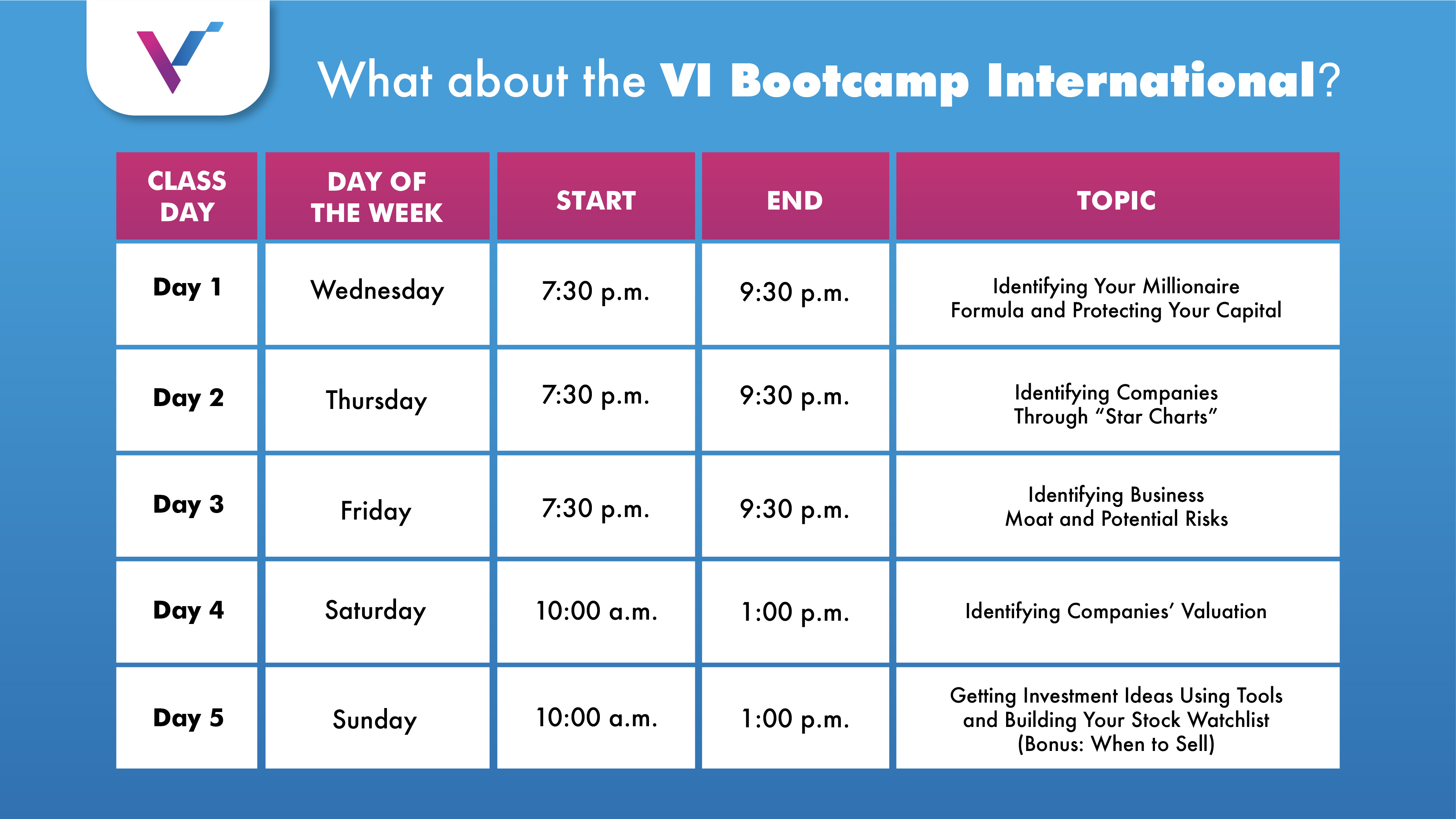 The class is scheduled in consideration of working hours you may have so that you won't need to apply for annual leave just to learn investing with VI.
Not only will you gain relevant knowledge in stock investing through the five-day Bootcamp, but you will also get a 14-day VI App Starter Premium Plan. Yes, this is included when you donate your $1.
VI App is a stock analysis tool that helps investors reduce their stock research time to just minutes. Learn more about VI App here.
Let's all inspire kindness and pay it forward this season of giving!

Should you need more information about the campaign, go to this link.
DISCLAIMER

This article and its contents are provided for information purposes only and do not constitute a recommendation to purchase or sell securities of any of the companies or investments herein described. It is not intended to amount to financial advice on which you should rely.

No representations, warranties, or guarantees, whether expressed or implied, made to the contents in the article is accurate, complete, or up-to-date. Past performance is not indicative nor a guarantee of future returns.

We, 8VI Global Pte Ltd, disclaim any responsibility for any liability, loss, or risk or otherwise, which is incurred as a consequence, directly or indirectly, from the use and application of any of the contents of the article.