VI Blog
Your Questions on CPF OA Investment Answered
17 Nov 2021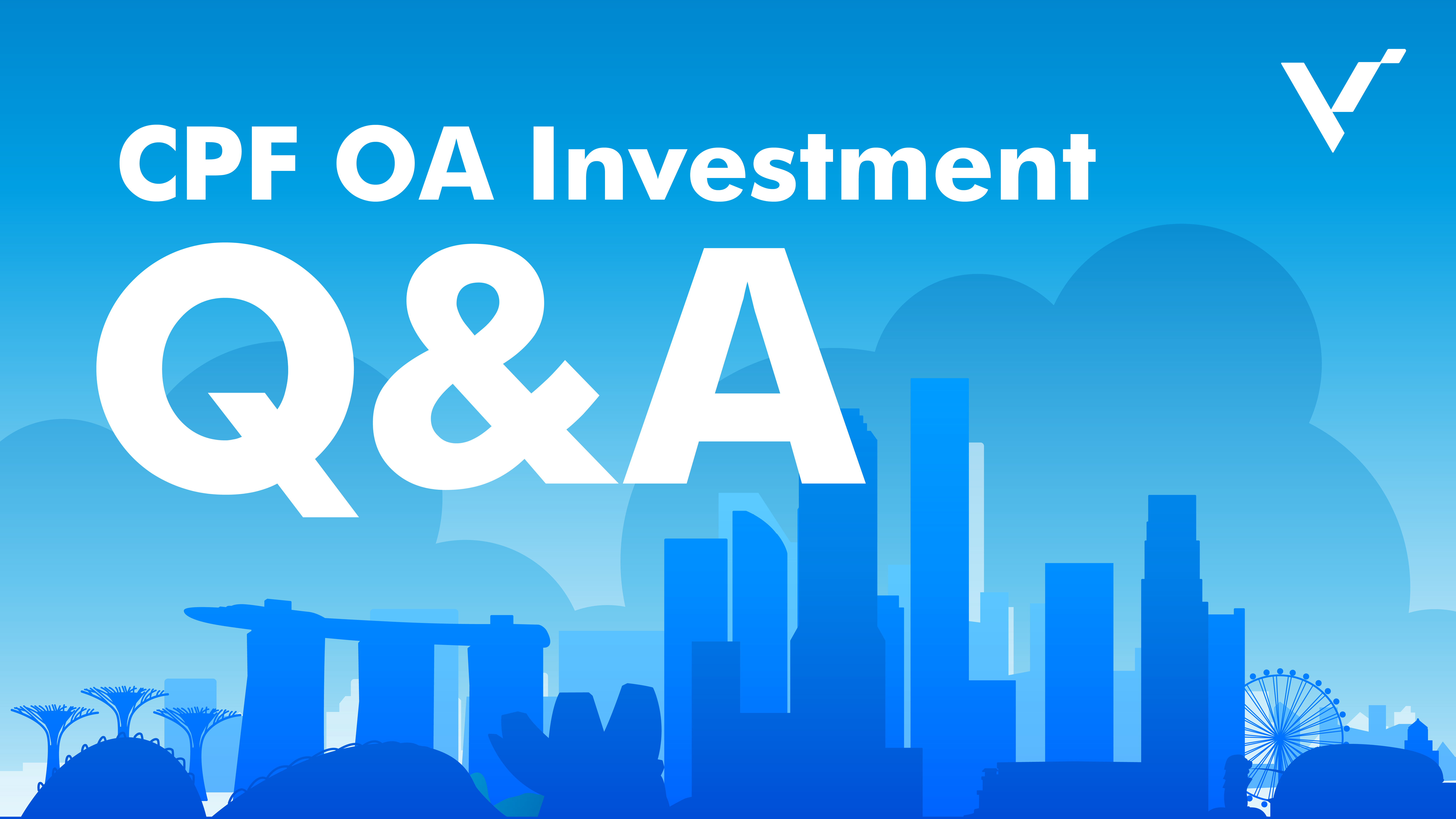 Your CPF (Central Provident Fund) is not just a simple pension plan. In case you aren't aware, you have four CPF accounts: OA (Ordinary Account), SA (Special Account), MA (MediSave Account), and RA (Retirement Account).
It's your choice to leave your money inside your CPF accounts or use some of it to invest. Do note, however, that whatever money you gain from investing your CPF will return to your CPF account and you can't withdraw them until after a certain age.
Most Singaporeans who are confident to touch and invest their CPF money use their CPF OA for investment. Hence, this article will cover your most important questions about CPF OA investment.
Is CPF OA investment for you?
Investing your CPF has several criteria.
The first and the most important is your confidence and knowledge of investments. If you're not confident to invest, it's best to just leave your CPF money where it's currently at and let it accumulate risk-free interest (2.5% for CPF OA and 4% for CPF SA).
Investing your CPF will potentially give you higher interest to grow your funds, but it also poses risks. Hence, we recommend investing your CPF only when you know how to do so properly, safely, and confidently.
Other criteria as stipulated by the CPF Board are as follows:
You are at least 18 years old.
You are not an undischarged bankrupt.
You have more than $20,000 in your CPF OA.
You have successfully completed the CPFIS Self-Awareness Questionnaire.
The age requirement is in place to ensure that you're old enough to make responsible choices concerning your CPF money, as every form of investment comes with risks. The required amount in your CPF OA will be discussed further in the next section.
How much of your CPF OA can you invest?
The most attractive reason for investing your CPF money is investing without cash and just using what you have in your OA.
But we hope you know that you cannot invest all the money in your OA account in whatever investment vehicle you want. The CPF Board still controls how much you can touch from your money.
Another thing to remember is that your CPF OA can be used to pay for your property. Although even if this is the case, remember to still set aside some savings for either future mortgage or for gaining more interest.
The CPF Board only allows you to invest whatever you have left in your OA account after setting aside $20,000. Hence, if you currently have $60,000 in your OA, you can invest at most $40,000. If you have $40,000 in your CPF OA, then you're allowed to invest $20,000.
You may also check the amount via the CPF portal using your Singpass. Just go to My CPF Online Services > My CPF > My Dashboards > Investment. Or you can just open your CPF Mobile App and go to My Investment.
Still, there's such a thing as investible savings, which the CPF Board uses to limit how much you can put into certain investment options. Investible savings is your total OA balance and any amount you have withdrawn for investment and education.
You're allowed to invest only up to 35% of your investible savings in stocks or shares, and 10% of your investible savings in gold.
If you have a $60,000 OA balance and you have previously withdrawn $10,000 for investment and $10,000 for education, your investible savings is $80,000. This means you can invest $28,000 in stocks and $8,000 in gold.
How can you start to invest your CPF OA?
The CPF Investment Scheme (CPFIS) allows you to invest your OA in different products. Here are the investment options included in the CPFIS list for CPF OA investment:
Unit trusts
Investment-linked insurance products
Annuities
Endowment policies
Singapore Government Bonds
Treasury bills
Fund management accounts
As mentioned above, you can also invest 35% of your investible savings from your CPF OA in the following:
Likewise, you're allowed to invest up to 10% of your investible savings from your CPF OA in:
Gold ETFs
Other gold products (e.g., gold certificates, gold savings accounts, and physical gold)
You can find a more detailed list of which shares, Treasury bills, bonds, gold products, and property funds you can invest in using your CPF OA in this document. You can also check which brokers are accredited by the CPF Board in the same document.
Once you've crafted your plan to invest using your CPF OA, you can proceed to open a CPF Investment Account with any of the three approved banks: UOB, DBS, or OCBC.
See also: Opening a CPF Investment Account
When can you withdraw your CPF OA investments?
Any gains you get from investing your CPF OA will go back to your CPF account. You can only withdraw your money when you're already 55 years old.
You can apply to withdraw your investments after you've set aside a required amount in your retirement account.
We hope we've answered your questions on investing your CPF OA. Should you feel you need to learn more about investing, especially in stocks, come to our free investing bootcamp where we'll teach you a systematic way to stock investment.




DISCLAIMER

This article and its contents are provided for information purposes only and do not constitute a recommendation to purchase or sell securities of any of the companies or investments herein described. It is not intended to amount to financial advice on which you should rely.

No representations, warranties, or guarantees, whether expressed or implied, made to the contents in the article is accurate, complete, or up-to-date. Past performance is not indicative nor a guarantee of future returns.

We, 8VI Global Pte Ltd, disclaim any responsibility for any liability, loss, or risk or otherwise, which is incurred as a consequence, directly or indirectly, from the use and application of any of the contents of the article.