VI Blog
5 Singapore Dividend Stocks to Watch (2022)
11 Apr 2022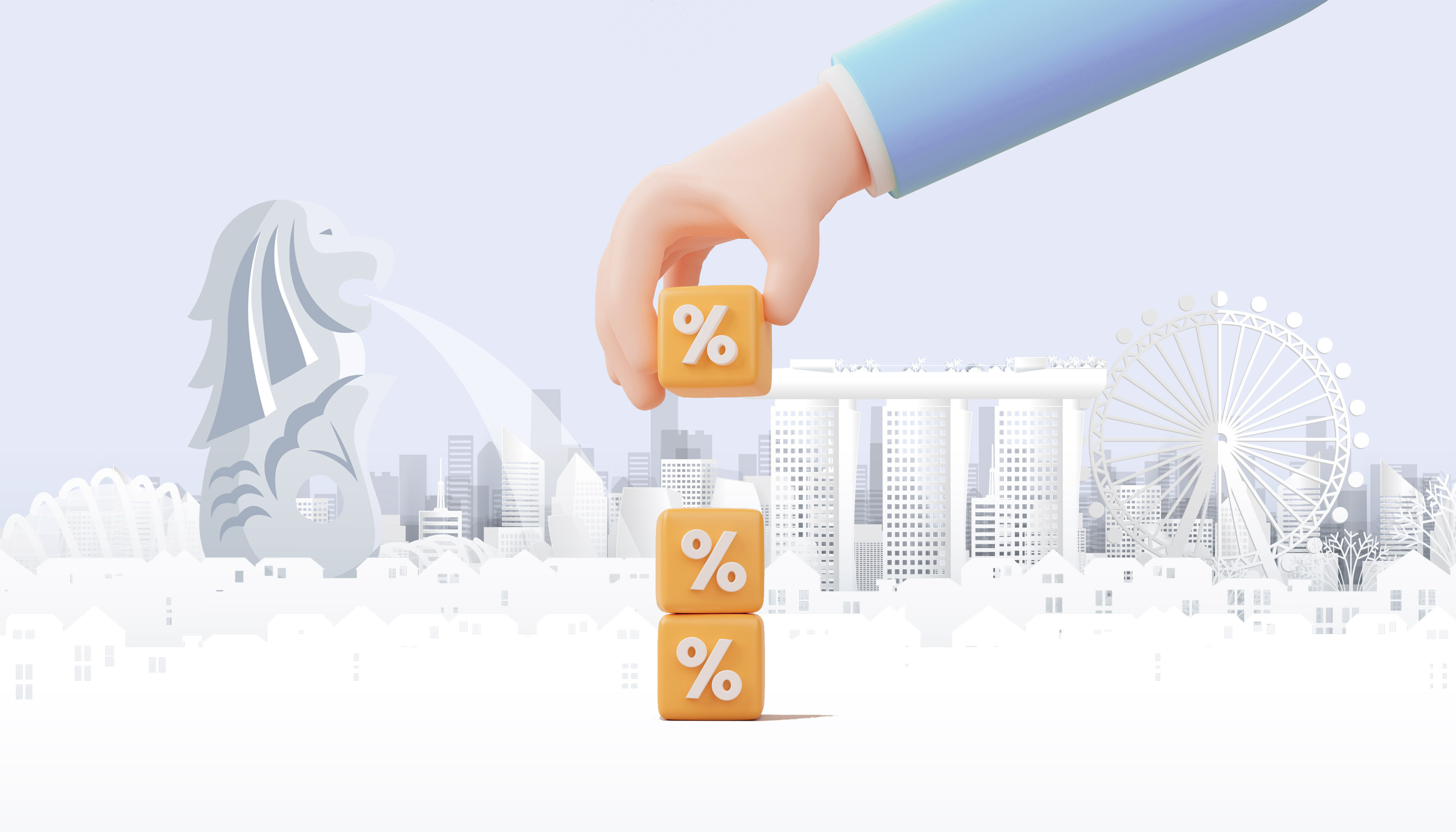 For sure, you know friends and relatives who receive passive income – or money that comes to their bank accounts while they sleep soundly at night.
It's not surprising how the goal of creating passive income is becoming increasingly popular in Singapore. With so many options for generating passive income, we frequently wonder which is the simplest and most profitable.
On this, we say, "how about considering Singapore dividend stocks"?
Okay, so "stocks" might intimidate you. But believe us when we say that dividend stocks are often easier to invest in, especially for those who are not experts in stock investing.
Investing in dividends stocks
Dividend stocks are those that give out dividend payments to shareholders. It's like a way of sharing what the company has earned with the shareholders.
You don't need to do anything other than buy some shares and wait for the dividends to come to you.
Of course, it doesn't mean you should just look for Singapore dividend stocks and buy shares of each. You must put in some work, too, before you decide to invest.
For a dividend stock to pay you handsome dividends, the company must be doing well financially. If not, then where will it get the money to distribute to shareholders?
But once you find really good dividend stocks, you'll surely be on the path to financial freedom. After all, dividend stocks are the most preferred means to earn passive income from the stock market.
Still unconvinced? We'll list the advantages of investing in dividend stocks.
Benefits of investing in dividend stocks
Market conditions don't affect how dividends work. This means that even if the market is bearish, you can still expect to receive dividends (except when the company decides to eliminate its dividend payouts).
Companies are transparent with how much dividends they pay their shareholders. Hence, you can include in your analysis the numbers that will help you decide whether or not the dividends will be enough for your goals.
Even though dividends are not that high and won't make you rich overnight, accumulating these dividends will give you massive returns over time. In fact, one of VI College's founders collected enough dividends to pay for his flat.
You can choose to reinvest your dividends. If you don't need the money right away, why not re-invest it in the same stock or another dividend-paying stock, and get more returns?
Dividend stocks can get you closer to your financial goals, this is a fact. Still, know that investing in Singapore dividend stocks also has risks and limitations.
Limitations of dividend stocks
Dividend stocks can fall in value, and your dividend income might be reduced without notice at any time. For example, when you invest in a dividend stock, you might be receiving dividend income for the first year. When the company decides to stop issuing dividends due to some issues, you'll be left with a stock that does not provide passive income.
Investing in dividend stocks may cause you to lose out on potential gains. Sure, dividend stocks would pay a sizeable dividend income but it would never exceed 15% of your money. This is assuming that the company can maintain its high dividend yield (although most companies are unable to).
Now that we've discussed both sides and you find that you're still interested to learn more about dividend stocks, check out our list of 5 Singapore dividend stocks below.
5 Singapore dividend stocks
Note that these aren't the best there are in the market, but these are options from which you can start your analyses on whether they're a good buy or otherwise.
1. DBS Group Holdings Ltd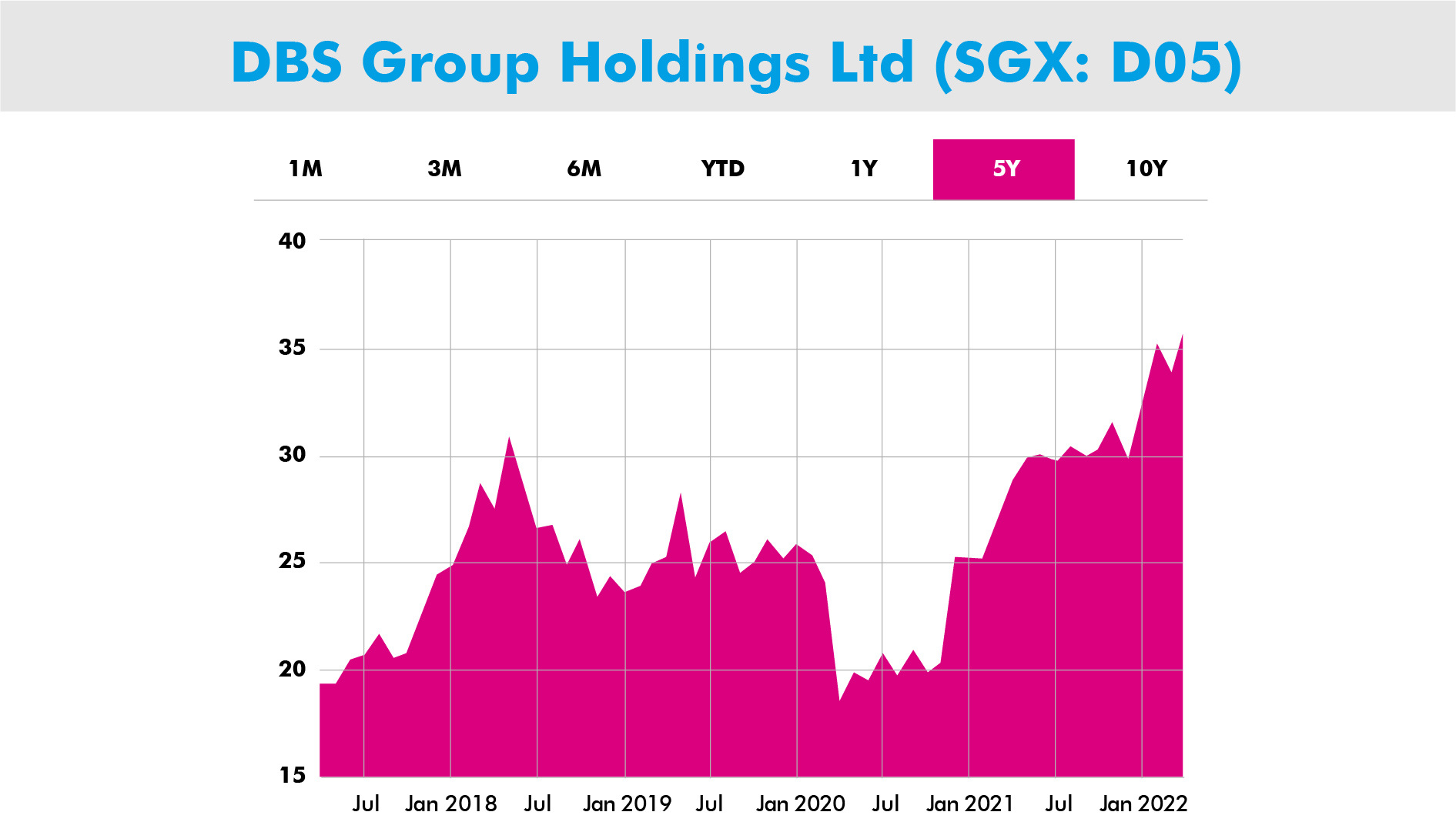 Everyone in Singapore has definitely heard of DBS. One of Singapore's main banks, DBS is also named the best bank in the world. And this company pays out dividends to shareholders. In fact, it has a good track record of issuing dividend payments.
As of date of writing, its stock price is at S$34, an affordable entry price for beginners looking to invest in a stable company that pays dividends.
From 2020 to 2021, its dividend per share decreased by 79%, from S$0.859 to S$0.179. However, in the same period, its revenue increased by almost 25% and its net income by 46%.
If you're thinking to invest in DBS, do a deeper analysis of its fundamentals and check if you're comfortable investing in banks.
2. United Overseas Bank Ltd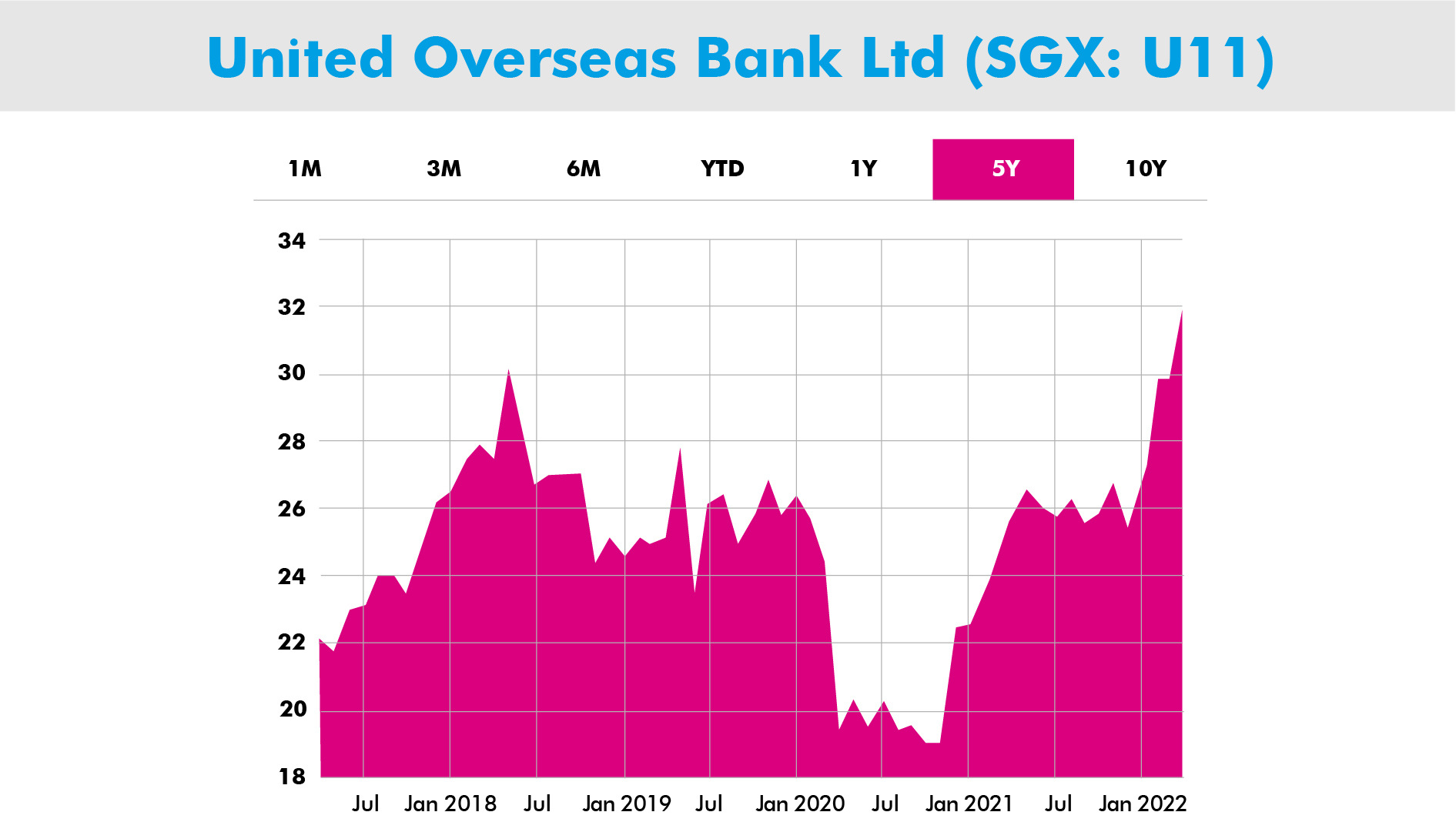 Another bank, yes. So before you continue, check whether you're comfortable investing in banks.
United Overseas Bank (UOB) is often called DBS's rival. The banks' current share prices are almost similar, and both are Singapore dividend stocks.
However, UOB's dividend score is higher than DBS's. With a good track record of paying dividends to shareholders, UOB also managed to increase its dividend per share from 2020 to 2021 by 53%. Its payout ratio likewise reflects the company's ability to invest for its growth and still give out dividends.
Moreover, UOB saw a revenue growth of 20% in the past year, which could be a promising sign for its continuous growth.
Then again, it's up to you to do more research about the company should you wish to include it in your dividend stocks list.
3. Powermatic Data Systems Ltd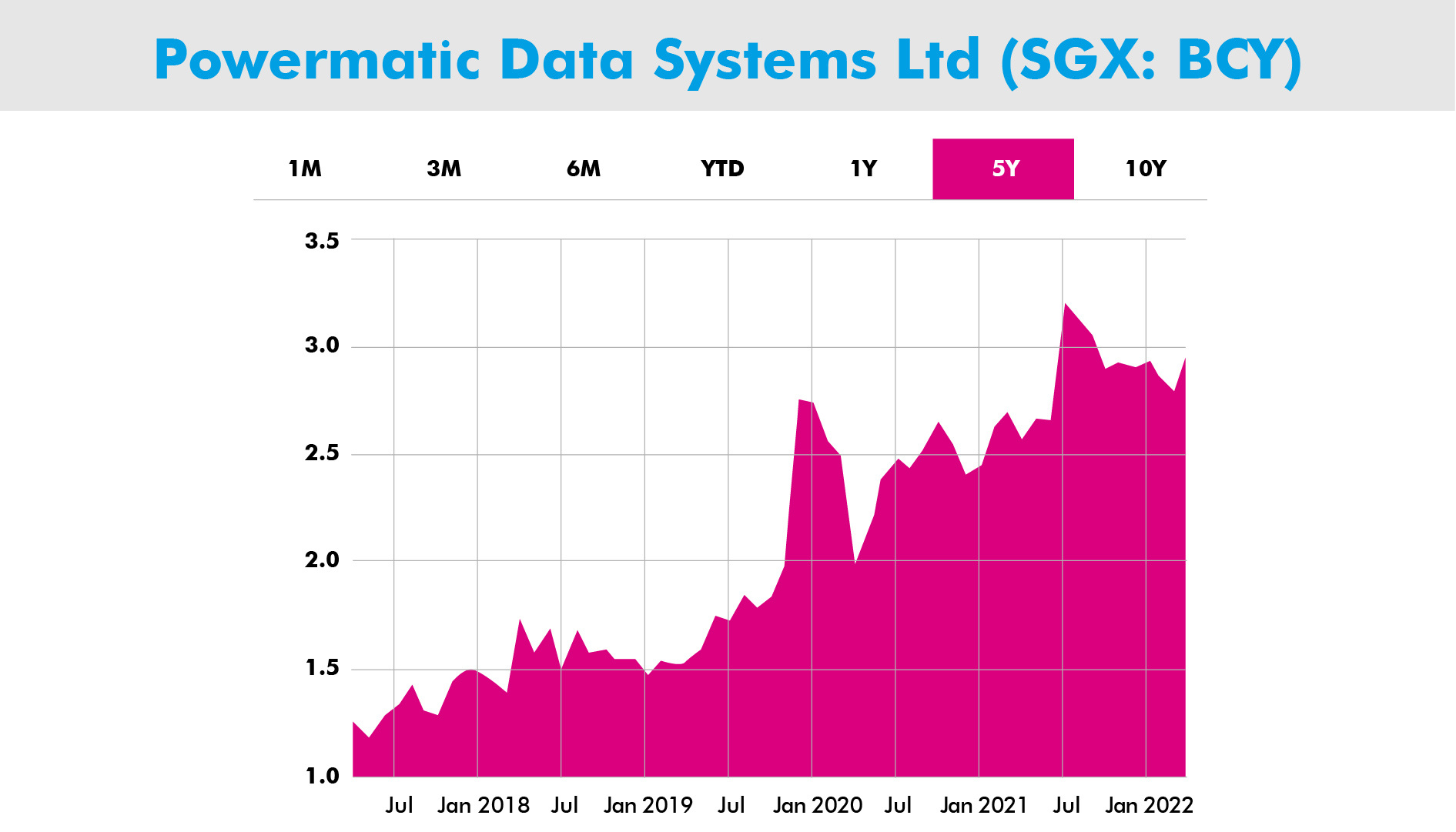 With a market capitalisation of US$100 million, Powermatic specialises in wireless connections and all things related to them. This company has exhibited stable and high revenue and earnings in the past years, and it gives out dividends.
With everything around us going digital and the need for wireless connectivity products and services in demand, it is no wonder that Powermatic's business has been so far a good one. And this, of course, translates to dividend payouts for shareholders. In fact, from 2021 to 2022, its dividend payout increased by 300%.
At a share price of S$2.9, the company has one of the highest dividend payouts in Singapore. It also has a consistent 10-year track record of paying dividends. Plus, you can see how its revenue and profit increased in the past year.
Still, remember to do your due diligence before investing in this stock, no matter how attractive an opportunity it seems.
4. Great Eastern Holdings Ltd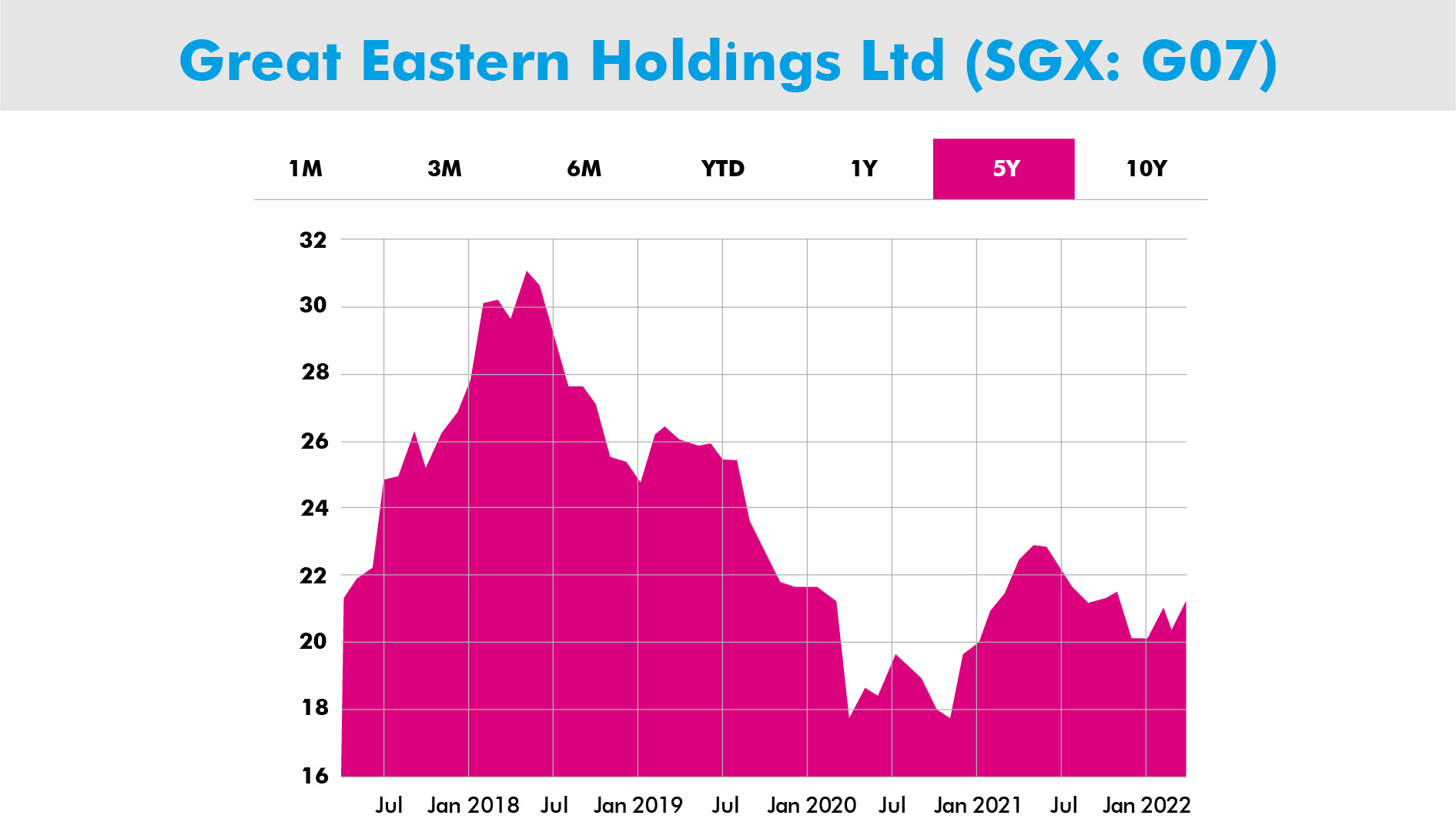 Where do some people buy their insurance from? It would most likely be Great Eastern. This company provides insurance services in Singapore, Malaysia, and other Asian countries.
Although it has lower profitability compared to other companies, Great Eastern is considered a fast grower in the industry.
Its track record in paying dividends is good, and the company has just enough profits to maintain such a track record simultaneous with investing for its growth. From 2020 to 2021, its dividend payout increased by 8%, from $0.6 to $0.65, not the best but a decent payout.
The company's share price dropped in 2020, something that can be attributed to the impact of the pandemic. So if this is something that you're not comfortable with, check your objectives again and evaluate after doing another round of analysis.
5. Riverstone Holdings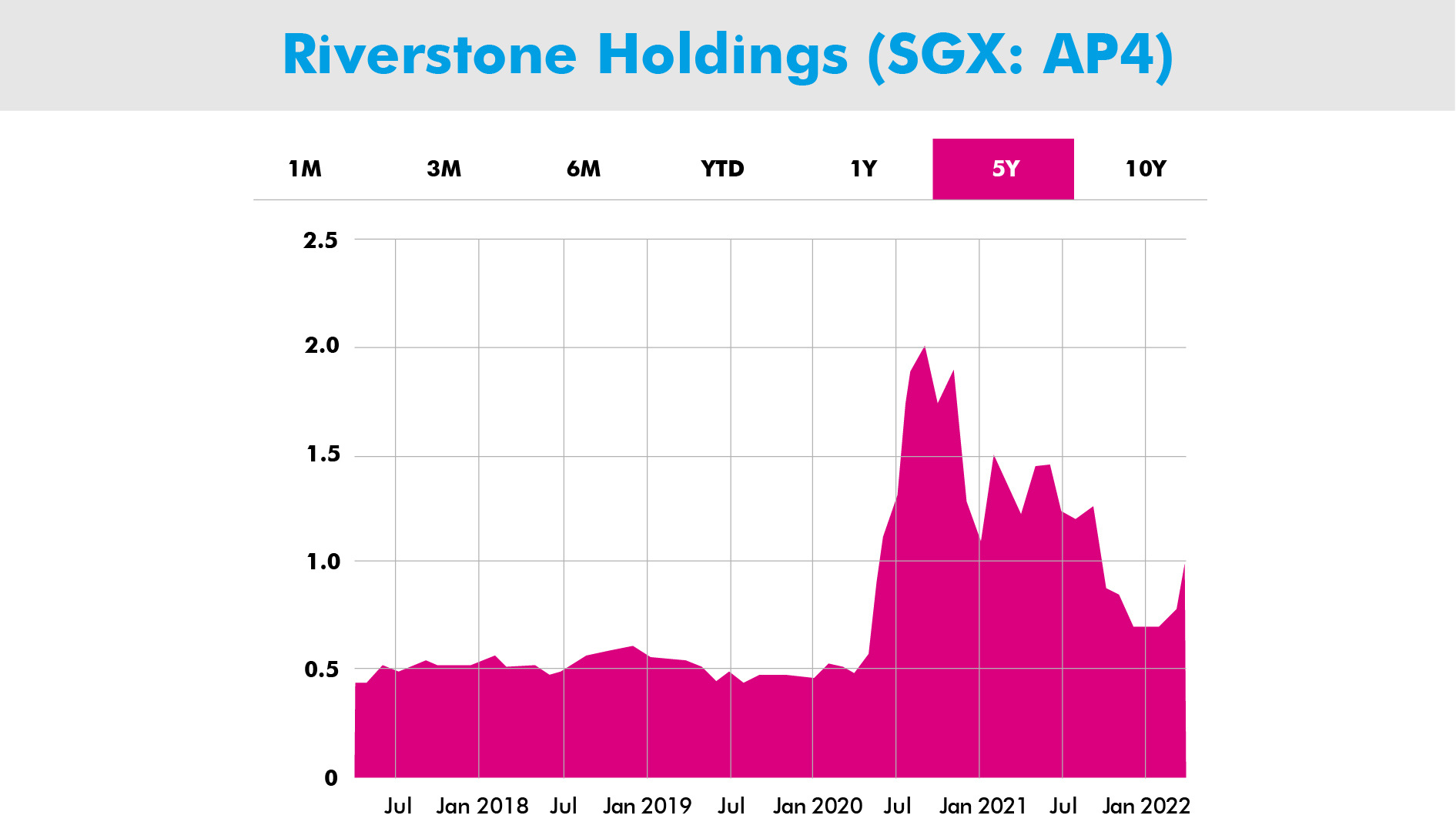 You can buy a share of this company for less than S$1, as of date of writing. Riverstone is a manufacturing company in the healthcare industry. It manufactures and distributes cleanroom and healthcare gloves in Malaysia, among others.
You might not be too familiar with this company yet, so read up more about its business model should you be interested to invest in it.
Riverstone is a Singapore dividend stock with a good 10-year track record of paying dividends to shareholders. From 2020 to 2021, Riverstone's dividend per share increased by 111%. Due to its products being in high demand during the pandemic, its profits and revenue also increased; hence, the dividends also went up.
Dividend stocks may not make you a multimillionaire overnight, but they can help you sleep peacefully at night, if you choose the most profitable ones.
Always do a thorough analysis of whatever stock you're buying, be it a dividend stock in Singapore or ETF or individual stocks.
We'll teach you a systematic process for choosing stocks to buy. Come to our complimentary masterclass today.
DISCLAIMER

This article and its contents are provided for information purposes only and do not constitute a recommendation to purchase or sell securities of any of the companies or investments herein described. It is not intended to amount to financial advice on which you should rely.

No representations, warranties, or guarantees, whether expressed or implied, made to the contents in the article is accurate, complete, or up-to-date. Past performance is not indicative nor a guarantee of future returns.

We, 8VI Global Pte Ltd, disclaim any responsibility for any liability, loss, or risk or otherwise, which is incurred as a consequence, directly or indirectly, from the use and application of any of the contents of the article.