VI Blog
Dow Jones Index and Companies Explained
01 Sep 2022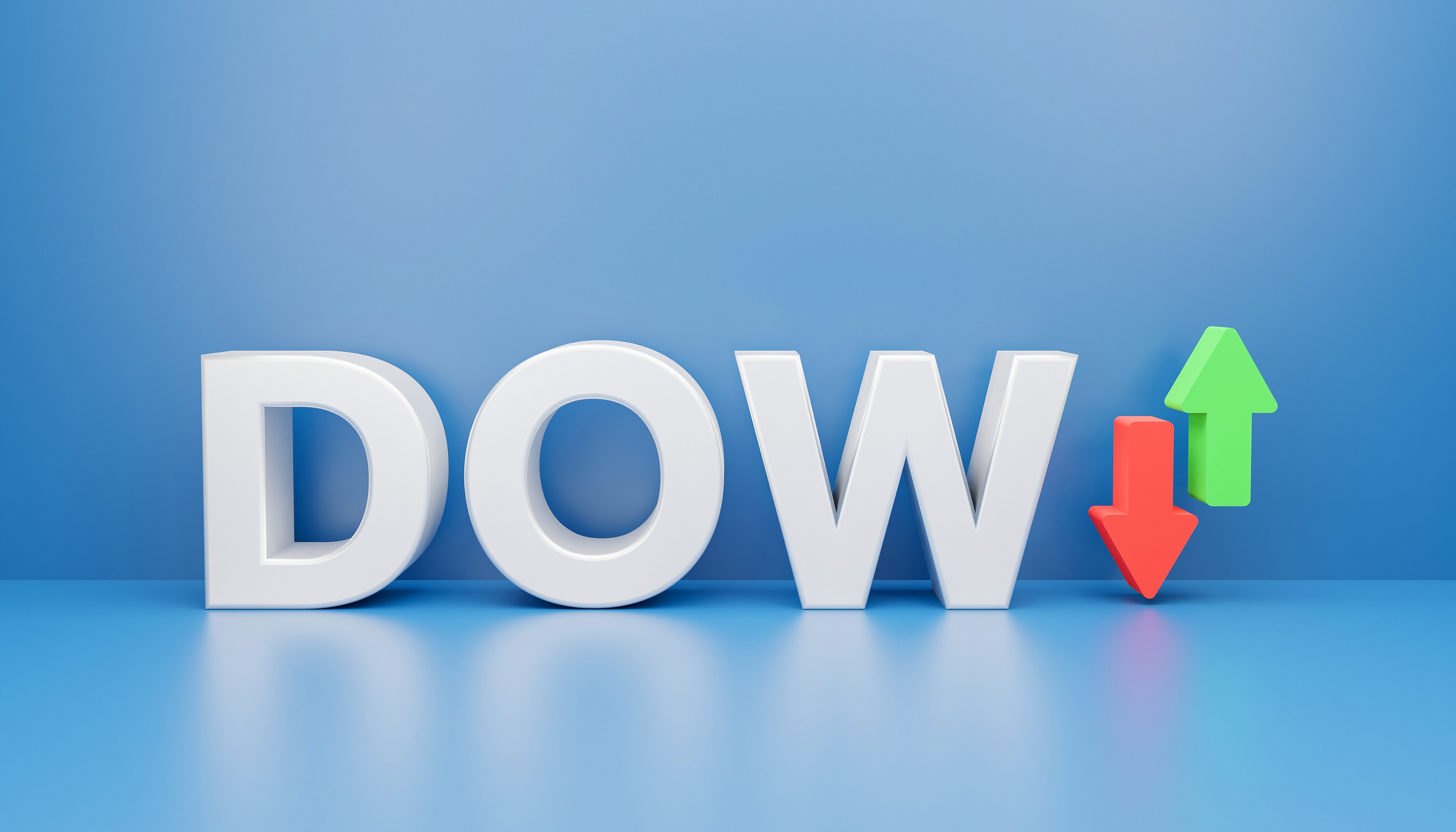 When do we say the market is up or down? What's the basis for it? Well, we refer to stock indexes, namely, the S&P500, Nasdaq Composite Index, and Dow Jones Industrial Average (which some also refer to as Dow Jones). We'll dedicate this article to discussing the last index mentioned – the Dow Jones.
The Dow Jones index has been around since 1896. It has served as a stock market and economic indicator, primarily in the US context, for more than a century.
The Dow Jones Company
The Dow Jones index is part of the Dow Jones & Company founded in 1882 by Charles Dow, Edward Jones, and Charles Bergstresser. Now, Dow Jones & Company is owned by News Corp, whereas the Dow Jones Industrial Average, as of 2012, is owned by S&P Dow Jones Indices LLC.
While Dow Jones & Company is most famous for the index, it is also a financial and business news company. It owns major publications, such as The Wall Street Journal, MarketWatch, and Barron's. It also is not a publicly traded company, in case you're interested to invest in it.
The Dow Jones Industrial Average is just one of many other indexes the Dow Jones & Company owns. The company also owns the Dow Jones Transportation Average, with 20 transport stocks included, as well as the Dow Jones Utility Average which has a membership of 15 US utility stocks.
The stocks
What sets the Dow Jones index apart from the S&P500 (500 stocks) and NASDAQ (2,500+ stocks) is its limited number of stocks tracked.
In 1896, it only had 12 stocks, the majority of which comes from the industrial sectors. Below are the 12 companies originally tracked by the Dow Jones index:
American Cotton Oil
American Sugar
American Tobacco
Chicago Gas
Distilling & Cattle Feeding
General Electric
Laclede Gas
National Lead
North American
Tennessee Coal and Iron
U.S. Leather
U.S. Rubber
The number has grown in the following years, but the number is capped at 30. As of June 2022, these are the companies listed in the Dow Jones index:
| | |
| --- | --- |
| Ticker | Company Name |
| AXP | American Express Co |
| AMGN | Amgen |
| AAPL | Apple Inc |
| BA | Boeing Co |
| CAT | Caterpillar Inc |
| CSCO | Cisco Systems |
| CVX | Chevron Corp |
| DIS | Disney |
| DOW | Dow Inc |
| GS | Goldman Sachs Group |
| HD | Home Depot Inc |
| HON | Honeywell International Inc |
| IBM | International Business Machines Corp |
| INTC | Intel Corp |
| JNJ | Johnson & Johnson |
| KO | Coca-Cola Co |
| JPM | JP Morgan Chase & Co |
| MCD | McDonald's Corp |
| MMM | 3M Co |
| MRK | Merck & Co Inc |
| MSFT | Microsoft Corp |
| NKE | Nike Inc |
| PG | Procter & Gamble Co |
| TRV | Travelers Companies Inc |
| UNH | UnitedHealth Group Inc |
| CRM | Salesforce Inc |
| VZ | Verizon Communications Inc |
| V | Visa Inc |
| WBA | Walgreens Boots Alliance Inc |
| WMT | Walmart |
As you can perhaps observe, the current companies in the Dow Jones index are no longer the same companies from centuries ago. There's one, General Electric, which made it until 2018, but it was replaced by another company, the Walgreens Boots Alliance.
In fact, the Dow Jones has been noted to make revisions to its stock list to include recently performing stocks. For example, it removed AT&T (a telecommunications giant in the US) and replaced it with Apple in March 2015.
The selection process
The Dow Jones selects stocks primarily on factors including the company's reputation and its leadership portfolio. Its peers, however, the S&P500 and NASDAQ, choose stocks mainly based on quantitative criteria, for instance, trading liquidity and financial liability.
This is the same reason why some investors do not regard the index that highly, as they feel that more stocks are characteristic of the economic and stock market performance. Plus, with only 30 stocks maximum, there's an argument that this tiny percentage, which is only 1%, does not provide justice to the economy's diversity.
Moreover, the Dow Jones is more of a price-weighted index, meaning it gives higher value to a company's share price rather than its market capitalisation, which is what's used by the other two major indexes. For some investors, this is another of the index's shortcomings as this criterion would restrict other performing stocks from being included in the list.
However, we can't argue with the fact that the Dow Jones performance graph is almost identical to the S&P500 (in the past 2 decades, these two indexes are similar by almost 94%), so who's to say it doesn't reflect the global economic outlook?
The average return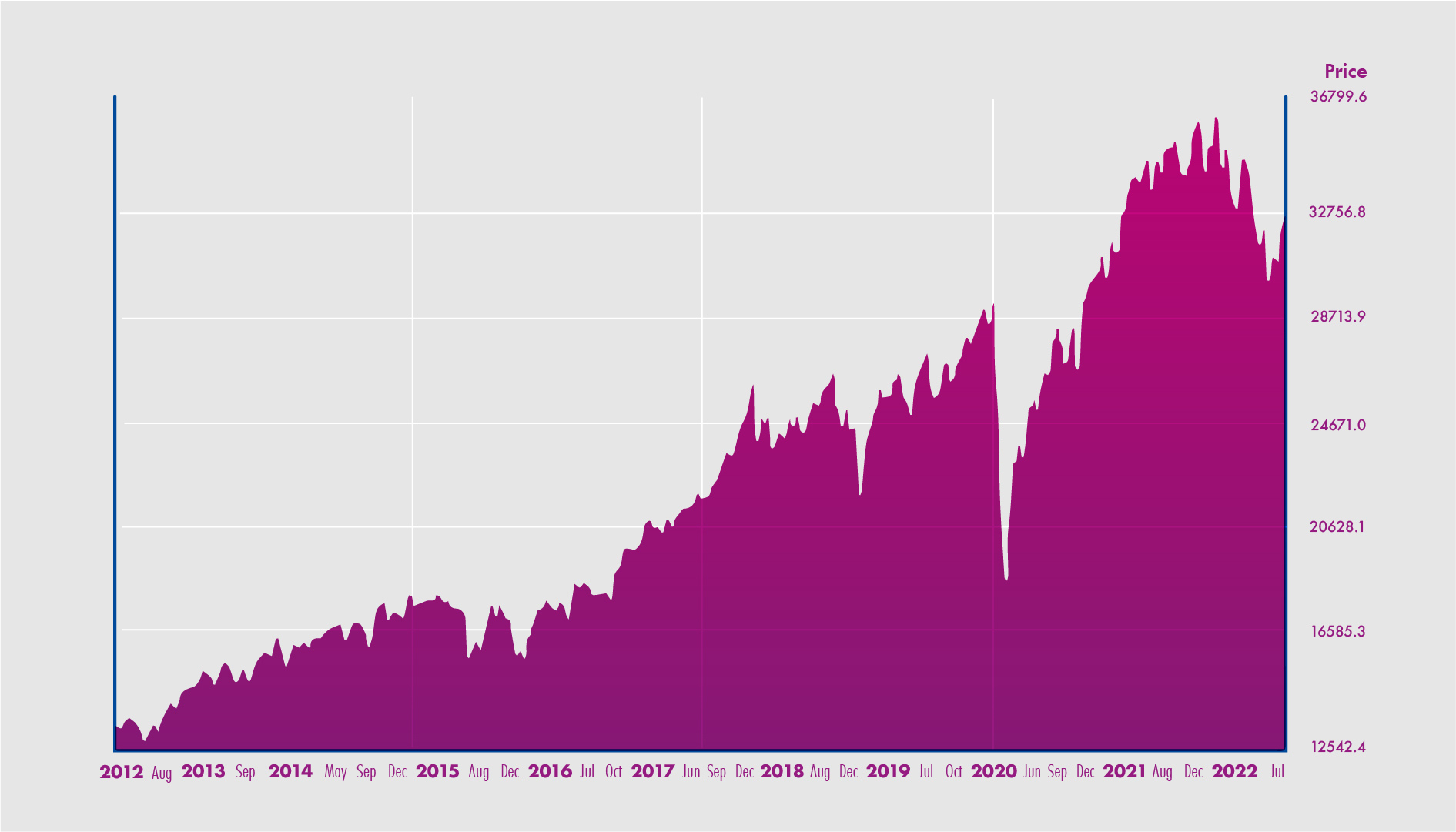 Those who follow the Dow Jones index have seen profitable returns in the past years, too. This is in comparison with the S&P500 for the past 25 years.
As of March 2022, the average return of the Dow Jones industrial average is 8.70%. There are years when its average return is high, although not as high as today's primary benchmark index, the S&P500, you can look at it the other way, too, i.e., at times when it yielded low returns, it's not as low as the other index.
To illustrate, it has been reported that the Dow's dividend stocks have about 2.4% dividend yield as compared to S&P's 2%. Moreover, during the bearish market, the Dow suffered a loss of 51.8% as compared to S&P's 55.3%. The index has seen hope through its cash-rich stocks.
Still, should you be interested to invest in the Dow Jones index, you can do so by investing in the SPDR Dow Jones Industrial ETF (DIA), Elements Dow Jones High Yield Select 10 Total Return Index (DOD), or ProShares Ultra Dow30 (DDM). Or you can refer to its list for individual stocks you can consider investing in.
Join us in learning how to evaluate stocks and ETFs in the market. Come to our FREE masterclass by clicking this link.
DISCLAIMER

This article and its contents are provided for information purposes only and do not constitute a recommendation to purchase or sell securities of any of the companies or investments herein described. It is not intended to amount to financial advice on which you should rely.

No representations, warranties, or guarantees, whether expressed or implied, made to the contents in the article is accurate, complete, or up-to-date. Past performance is not indicative nor a guarantee of future returns.

We, 8VI Global Pte Ltd, disclaim any responsibility for any liability, loss, or risk or otherwise, which is incurred as a consequence, directly or indirectly, from the use and application of any of the contents of the article.